Testimonials
Bianca, 39y.o. Sacroiliac Joint (SIJ) Dysfunction and pain
Since start with the EP Group I've been feeling really good, despite only doing exercises a few times a week – I wish I had more time as I feel the benefits after every session. I'm trying to do just 5-10 mins if I don't have time for the full 20-30 mins. My hips seem a lot more stable and my chiropractor has commented on the improvement.
Mary, 60y.o. Long history of neck and thoracic pain from 3 separate car accidents
My EP Group Practitioner has significantly reduced my pain and my self confidence has increased enormously. His clinical and measured approach means that I have developed complete faith in what we do each session and that we are heading down the best path for me.
Adele, 21y.o. State Level netballer sidelined with Fibromyalgia
I'm back playing at my local netball club, after completing pre-season. I am playing really well and enjoying the thrill of being out on court with the girls. Last week I even managed to play 3 quarters (I was previously playing two non-consecutive quarters) and was named best on court! Thank you for all your help and advice in the early days, building up the foundational strength which has allowed me to be in the position I am today.
Alice, 34y.o. Chronic Fatigue Syndrome
Thanks so much, your help has been really fantastic! I hadn't realised how much my headaches and postural issues were bugging me until I saw you. Now there is an improvement, I feel such a sense of relief"
Michele, 48y.o. female with persistent knee and hip pain
Before I came to the EP Group I could hardly walk, but in a few short weeks I have been able to do vigorous exercise on my knee without any pain! I feel like I have finally found a solution to what has been a thorn in my side. I have even told my mum and dad to see the EP Group for help with their aches and pains.
Jack, 35y.o. male with Sacroiliac Joint(SIJ) Dysfunction
I am really surprised it has happened so quickly. I used to get pain all day, every day and now it is only a very small part of the day. I didn't think exercise would do this! I am very pleased with my progress.
Sandra, 36y.o. female with chronic low back pain
Over 3 sessions with the EP Group, I learned some very important exercises that made a huge difference to my back pain. Each session my EP built the exercises up to be slightly more challenging so that I could take them with me to use anytime. My back pain improved significantly and my EP was fantastic at explaining everything, he worked hard to get me such a good result
Marie-Claire, 36y.o. female with chronic neck and low back pain
I have never had a program or treatment plan that has been this proactive. I am not only physically stronger, I am mentally happy and confident. Thank you so much!
Mina, 43 y.o. with rare pulmonary condition
This is the best thing I have done for me in a long time.
Chas, 19 y.o. elite footballer
Thanks again for all your help, I really enjoyed the session with you. I took 22 seconds off my 3km time trial PB which was assisted by your breath pattern training and the deprivation of oxygen conditioning in the pool.
Don, 57 y.o. with multiple comorbidities including TIA (mini stroke)
This means heaps to me. My attitude towards work has improved and I am happier in my private life. I feel like I now have my life back. Thank you to the EP Group.
Clara, 18y.o with Polycystic Ovarian Syndrome
My Doctor couldn't believe how much weight I had lost and was very surprised with my great results and didn't know it could be possible in such short time. I told her it's because I have a great Exercise Physiologist!
Victoria, 21, L hip complications post arthroscopy
I feel much better and virtually have no pain. I am now able to regain my fitness like all of my friends and family and feel really strong. I am rarely aggravated at the moment which is a huge contrast to where I was.
Marianne, 56, degenerative ankle and extensive foot issues post surgery
I am now able to walk without stumbling and can go up/down stairs without thinking about it. It's amazing how much stronger I feel and don't have to think about how I walk anymore. I look forward to my future holidays and not having any restrictions like previously.
Peter, 50 y.o, ME / Chronic Fatigue Syndrome
I can see you are a man who doesn't like to leave "any stone unturned". I appreciate that and believe you are the right EP to be working with.
Debbie, 50 y.o, cancer survivor
I can't thank my case manager and you enough for introducing me to exercise. Without you, I wouldn't be able to do anything. It's truly unbelievable what I have been able to achieve in such a small amount of time.
Max, 27 y.o, shoulder impingement
Since starting the exercises my shoulder have been absolutely fine. They have been perfect for me and I cant be more happy
Jason, 48 y.o, obesity and associated joint issues
I love the holistic approach of the EP Group. It's not only about exercise, but education. I've learned so much in my sessions and armed with my improved knowledge I know this will be a long term change. I've lost 18kg and counting.
Sharyn, 60 y.o female, chronic knee pain
I just wanted to let you know that I went for a walk with my friends on the weekend and I was the fittest one there. My friends couldn't believe it; I am always the one at the back with pain being unable to finish, but things have clicked and I finished first when half of my friends couldn't even finish! I just wanted to thank you so much for all of your hard work.
Russell, 35 y.o male, upper back pain, postural tension causing bilateral shoulder pain
I approached The EP Group because I had aches and pains in my back and both shoulders. This pain restricted me with my martial arts and resistance training. The EP Group helped by showing me specific exercises and stretches to complete daily. The result was incredible, after 2-3 weeks of following their program I was pain free and could progress my training.
Betty, 88 y.o female, low back pain, sciatica, postural tension
You know what? I haven't thought about my back in months. It truly is inspirational! I can't believe this has happened so quickly. Congratulations young man!
Alex, 24 y.o, debilitating shoulder pain
This is honestly the best I have felt since I can remember. I'm so pleased and it's only been 3 sessions. In sticking to the program you have set for me, I don't think I'll need to come back because there's no more pain!
George, 68 y.o, skiing in Colorado 13 weeks after Unicompartmental Knee Replacement surgery
After two days on the hill I'm happy to report the the knee is very solid and my quads are very capable to cope with what I'm demanding of them. Thanks for your patience and help.
Mamadou, 35y.o, postural tension, regional pain syndrome, fibromyalgia
I really appreciate everything you've done for me and the huge effort you go to each time. It has made the world of difference as I'm sleeping much better and get through a whole day's work without such pain.
Angus, 35y.o, avid skier with multi-faceted hip dysfunction and associated Lower Back Pain
Thanks to your conditioning program, the quality of my skiing is much improved along with my recovery.
Nuby, 36 year old, neck, shoulder, low back postural pain
I am feeling so much better! For the first time in two to three years I am not in pain. I am really, really pleased and could not be more happy with your treatment!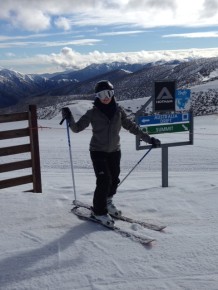 Jenny
Just wanted to check in to let you know how well I have been doing. I'm running again – (between 2 and 4km) and I even went skiing again this season (the first time since my injury). I attribute these successes to your work with me – thank you!
Elisabeth, 63 year old female, Osteoarthritis, Lower Back Pain
I just had to write because I am so happy – tonight is the first time that I have been able to complete all the exercises with increased resistance – I walked first (10 min), then did the ball exercises (10mins), then the core exercises and finally the bike (15min). Thank you so much for all your help, I felt great today after the stretching last night!
Renny
I have found the sessions to be efficient and effective. I am now more alert, my stamina increased and closer to my goal weight. My EP is thorough and friendly. She also listened to my needs and adjusted the programs as requirements changed
Maria, 54 year old female, with chronic osteitis pubis and Sacro-iliac Joint (SIJ) dysfunction
I have been consistent with exercise at the Richmond Recreation Centre and I am feeling better! I am moving better and at night and can toss and turn from side to side on my bed without holding my hips to turn! This is a huge thing because I hate gyms and I am inconsistent with exercise…
James, 64 year old male, bilateral knee osteoarthritis
I left last week with a feeling that my knee was back to normal and that I could run again. It's amazing how much your exercises have helped already. I'm really looking forward to being much more active in the near future.
Sue, 53 yr, female, Osteopenia, high cholesterol, previous lumbar disc prolapse
My recent blood tests came back perfect with my Doctor being particularly happy with both cholesterol readings. I feel much stronger and healthier than I ever have and look forward to an extended holiday overseas later this year without a worry.
Alani, 34 year old female, Two knee reconstructions on same knee requiring grafting from both hamstrings
My sessions with the EP Group are proving to not only progress the physical rehab of my dodgy knee, but they are also doing wonders for my mental state!
Liz, 63 year old female, Osteoarthritis, Lower Back Pain, High Blood Pressure, Obesity
Thank you very much for your help and support. You have made my exercise program so much easier to do. I can't thank you enough.
Gavin, 55 y.o male with nerve impingement in right shoulder, sacro-iliac (SI) joint dysfunction, right ankle degeneration
After just four weeks of my exercise program, I have generally had a massive improvement. Every day was previously a bad day (with regard to pain). I haven't had a bad day for quite a while now. I have certainly found that the program I am on has really helped."
Adrien, 48 year old, avid cyclist with chronic fatigue syndrome (CFS)
What you've done is validate what I basically already knew in a clear and effective objective way which has been a huge help in helping me reach my goals. Your program is very structured and clear and I feel that I am really on track.
Richard, 76 year old, Atrial Fibrilation, pleural fibrosis
You're a genius! It's amazing how your treatment works every time. It(Atrial Fibrilation) has been weighing on my mind all weekend and now I feel much better.
Greg, 43 year old, chronic shoulder pain – occupational injury
It's great to have someone who knows exactly what they're talking about. To most of the population this wouldn't be an issue, but I'm glad you know what to look for with me.
Sylvia, 80 year old, bilateral Total Knee Replacement, Left Total Hip Replacement and several other co-morbidities
Do you know what I like most about my sessions with the EP Group? It's that you make me feel most comfortable and I enjoy my sessions with you. I didn't get this from my previous practitioners.
Julie, 58 year old with low back facet joint degeneration and Osteoarthritis
I am very pleased with my current progress. In as little as two weeks I noticed a huge difference in my flexibility and strength. I have now maintained these improvements to a point where I feel great. I can't thank my Exercise Physiologist enough.
Bronwyn – 55 yr old with chronic significant lumbar problems and spastic hemiplegia
I am now able to carry my briefcase to the station without any back pain. Previously my back would ache and as such I wasn't able to take the train to work. I also don't have any spasms which means I no longer rely on painkillers; this is a huge relief. Your program is so easy to follow and has excellent detail; much better than previous programs I have received. I could not be happier with my improvement to date and it only has been 6 weeks. I am excited for what the future holds.
Chris – 39 year old with Chronic Low Back Pain
When I first saw The EP Group last year it really felt like it was my last roll of the dice. Although I had intermittent lower back pain for almost 20 years it was gradually getting worse, both in terms of regularity and severity.It had gotten to the point where I would be in pain after standing for 10 minutes and I couldn't do life's basic things like doing the dishes, cooking or taking my young kids to the park. Sitting at work was also uncomfortable and I couldn't concentrate properly. I had already seen chiro's, physio's and osteo's but I could only get temporary relief. I had never heard of an exercise physiologist until I saw The EP Group. I followed their program to the letter, and within 3 months (and only a handful of appointments) my back was better than it had been for many, many, years. The pain reduced dramatically and my quality of life improved substantially. Importantly, The EP Group gave me the tools to understand my condition and look after myself in the future. This is the first time I've written a testimonial, and my practitioner didn't prompt me for one, but I couldn't be more glad that I saw him. Thanks again.
Gerald – 86 year old male recovering from low back surgery
I can see exactly why I should be doing these exercises. My Exercise Physiologist has explained and demonstrated my home exercises perfectly for me to be able to manage independently. I never thought I would be able to do this on my own.
Gary – 60 year old male with Persistent Lower Leg/Calf Pain
Thanks again for your time today. All my experiences thus far with the EP Group have impressed me as regards your professionalism, and I am encouraged that I may finally be able to make some progress with the issues with my calves.
Leigh – 33 year old male with Chronic Low Back Pain
So far the difference has been amazing. My back feels much looser and I am moving more freely. The difference in such a small amount of time has been amazing. I can't wait to progress my exercises
Irene – Hip Pain
I feel I have improved a lot since starting on the EP Group exercise program. They nailed the problem spot. I feel stronger and only occasionally feel any pain in my hip. I am particularly grateful for the advice about walking. I'm now VERY mindful of walking 'straight' and I think that's also helped me walk pain-free.
Beris – Torn ligaments in knee and achilles tendonitis
Following exercise sessions with the EP group I am feeling very positive and confident about returning to normal activities of daily living. There is improvement in pain, improvement in balance and now after going on my walks I am not in pain so I can get on with my day. I feel more informed on injuries and their mechanisms and this has allowed me to build on my body awareness and monitor and improve my movements and posture.
Paula – 37 y.o female with chronic low back pain
I have had low back pain for over three years now and never realised what I should be doing and what I should not to be doing. I am excited to commence my program and progress back to a pain-free lifestyle. The EP Group have shown me how I can effectively use my core to build a stronger body. None of which I was aware of. I am glad I was referred to the EP Group.
66 year old with Polymyalgia Rheumatica
"I leave each session with my Exercise Physiologist feeling 100% better. It is truly amazing how much improvement I get from each session. I have noticed improved strength and less pain as a result of my home programme. I have already got my husband to contact the EP Group for his knee condition, and will be certainly referring my friends."
Polymyalgia Rheumatica is an auto-immune disease causing inflammation of blood vessels usually affecting the neck, shoulder and hips. You can see from the position of the foot in the photo on the left, the right hip is quite restricted at rest. Victims quite often report their limitations as being painful, stiff and simply physically restrictive. The image on the right was taken following a specialised form of passive treatment we provide at the EP Group. Again, from the change in position of the foot, you can see how much the hip stiffness has subsided. The subject reported vastly reduced levels of pain and greater physical freedom.
Female Golfer with hip pain
"I can't imagine what I would be like if I didn't see the EP Group. My friends often discuss their aches and pains, however, I don't experience this. I understand the benefits associated with my exercise sessions and couldn't live the way I do without them."
Curt – Cyclist with low back and hip pain
"It's great to have a clear indication of what is even and what's not in retraining my hip and core stability. The EP Group have helped me understand specific muscles and how to control them more effectively in working towards my goals and decreasing overall pain."
Mario – Pain from multiple Bulging Discs and Rheumatoid Arthritis
"Before I started with the EP Group, I was diagnosed with five bulging discs in my lower back and limited flexibility in my left wrist due to Rheumatoid Arthritis. From barely walking to recently having completed a 14km Spartan race finishing top 15%, my EP Group consultant is managing me perfectly increasing my fitness level whilst strengthening my core. I am pain free with further goals in sight."
Creina – Debilitating lower back Pain
"For a period of three years I suffered extreme back pain that resulted in hospitalisation twice.  It was impossible for me to lead any sort of normal life and I was becoming used to taking strong anti-inflammatory drugs accompanied by equally strong painkillers.  The EP Group was recommended to me through a friend.  After several therapeutic sessions, my condition improved amazingly.  Now through constant practice and intermittent attention from my Exercise Physiologist, I do not have any back pain and can lead a thoroughly normal life."
Maria – Pain from workplace wrist fracture
"I am very fortunate to have been referred to The EP Group to assist me with rehabilitation from a wrist fracture.  My Practitioner is very caring and has a remarkable knowledge of Human Physiology and Psychology and is a natural healer.  He is patient, thorough and supportive and goes beyond the call of duty at all times.  I have seen my EP Group practitioner four times and feel confident that if I continue with my program I will recover fully."

Lucy – Pain from overuse injury caused by running
"My treatment program with The EP Group is always interesting and varied with no consultation being the same. I have found my Exercise Physiologist to be considerate and very mindful of my pre-existing back injury and we have worked together to build my core strength and create a strong and toned body that I am proud of. He has retrained and corrected my running technique to eliminate pain and soreness that was debilitating."
Mother of 10 year old boy with a neuromuscular condition
"My son has a complex medical history which has required the practitioner to 'think outside the square'.  The exercise program the EP Group practitioner has devised and continues to 'tweak'  has certainly assisted in my son's progress to achieve core strength, improved gait and overall mobility. I have no hesitation in recommending EP Group to anyone who wants to see results!"
Chris – Medication Related Weight Gain
"Dear Mental Health Case Manager,
In several weeks of seeing my exercise physiologist, I'm pleased to report that four of my six goals have been met. But more importantly, The EP Group practitioner has been able to modify my eating habits and introduce a program of fitness to use into the future. As well as feeling physically stronger, the whole package has also given me a strong mental boost.  I finally feel that I have the answer to my medication-related weight gain problem."
Joe – Obesity related knee pain
"I have been involved with The EP Group for several months and have achieved amazing results. My exercise physiologist is a well-qualified professional who has been able to maintain my enthusiasm and has changed my whole approach to exercise to the point where I look forward to exercising."
Call us on (03) 9029 5590 or e-mail us at admin@theepgroup.com.au to take your first step to becoming an EP Group Success story.